Cloud-based Healthcare Analytics and Decision Support
Consider this:
Honeywell, a Fortune 100 technology and manufacturing company, needed to manage the ever-escalating cost of insuring its 130,000 employees and their dependents. Honeywell has reported that health care costs were growing approximately 8-10% per year.
Self-insured employers like Wal-Mart want to make health care cost and quality information available to their 1.2 Million employees. That information can be used by employees to select physicians based on how their rank, or how much they cost, resulting in savings for both the employee and the employer. Decision support enabler.
Historically, employers like Honeywell, Wal-Mart and their employees have not had access to comprehensive information about the cost and quality of care as they evaluate benefit designs across multiple health plans and treatment options.
In some cases, U.S health care providers and other market participants have actively resisted efforts by employers and others to obtain information about the costs and quality of health care services. Why? because opaqueness means money. UCSF researchers uncovered an enormous discrepancy in what different hospitals charge for the same procedure, ranging from a low of $1,529 to a high of $183,000. The median hospital charge was $33,611. The startling cost variation illustrates an inefficient system.
Despite this resistance, the health care industry generates extensive data that is relevant to determining the cost and quality of health care services. These data reside in myriad formats and disparate databases, without a common infrastructure, and have therefore been of limited value to employers and employees in controlling costs and improving outcomes.
In many cases, information relating to health care services has restrictions on its use, such as contractual agreements that some health plans and providers have historically entered into to not disclose price information. These factors make it challenging for employers and employees to use these data for the purposes of measuring cost and quality and making informed decisions.
In addition, even where these data have been available (such as data provided by insurance giants like United Healthcare, Aetna, WellPoint, and Cigna) they have not been delivered in a simple and intuitive format that could empower consumers to make actionable decisions. For example, the U.S. government releases massive amounts of data on hospital performance, such as detailed mortality statistics. However, it is very difficult for consumers to navigate these resources and determine which data and metrics are most relevant for their particular procedure or service, such as heart failure or child birth.
To help address visibility into healthcare spend, the Centers for Medicare and Medicaid Services recently released the Medicare physician payment data. Unbiased health care cost and quality information availability is an important step in the effort to improve the efficiency of the American healthcare system.
All the data is beginning to spawn a whole new category of Cloud Based Healthcare Analytics and Decision Support providers.
Castlight is new vendor that is driving healthcare cost transparency using analytics. See Castlight price comparison tool below.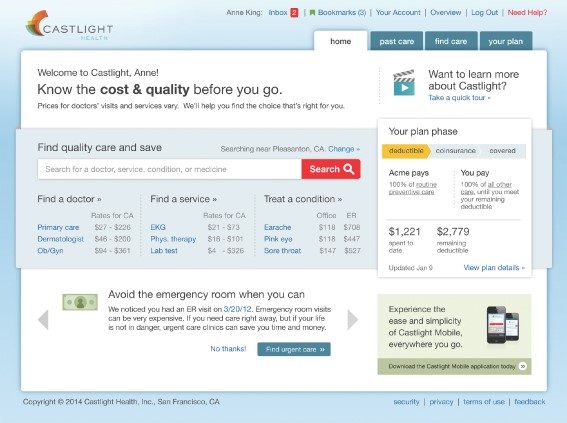 The U.S. Health Care Supply Chain Is Large and Inefficient
"There is more healthcare than steel in a GM vehicle's price tag." – GM Executive
A 2013 Institute of Medicine report estimates that 30% of U.S. health care spending in 2009 was wasted due to factors such as inflated prices, the provision of unnecessary services and inefficient delivery of care.
The health care industry in the United States is the largest in the world, according to the World Bank. According to a 2012 study by CMS, U.S. national health expenditure is forecasted to reach $3.1 trillion, or approximately 18% of the U.S. GDP, in 2014, and is expected to grow to ~20% of GDP by the year 2022.
Individual employee contribution is rising 10+% per year. Many times greater than inflation.
Despite this tremendous spending, U.S. health care outcomes remain inferior relative to those of many other countries. According to a 2013 Bloomberg report, the United States ranked 46 th in overall health care efficiency based on a weighted-average of life expectancy, relative cost per capita and absolute cost per capita of health care.
Dysfunctional Market with Limited Correlation Between Cost and Quality
In addition to these inefficiencies, healthcare industry dynamics have led to high variations in the cost and quality of health care services.
According to a 2013 report by the Massachusetts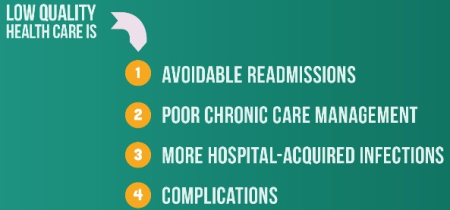 Attorney General, found that prices paid by certain health plans in 2011 varied by up to 3.5 times between the lowest and highest providers. Further, the study also found that price differences were not explained by differences in quality or complexity of care delivered. Moreover, according to a 2013 study in the New England Journal of Medicine, the quality of health care services can vary dramatically.
According to the study, risk-adjusted 30-day readmission rates for six surgical conditions at high-volume hospitals ranged between 7.5% and 25.5% in 2009 and 2010. Two fundamental causes driving this lack of correlation between cost and quality, and the resulting market dysfunction, are the absence of transparent data and the misalignment of economic incentives.
The Healthcare Cloud Business Opportunity
Despite a lot of talk about 'consumer-driven health care' and how patients should 'shop' for care… the system isn't set up at all for allowing patients to act as consumers. It is nearly impossible, even for doctors, to predict what someone's hospital bill will be.
Enterprising entrepreneurs are seeing a potential opportunity in healthcare transparency….to address the lack of timely, clear, actionable healthcare data needed by employers and employees to effectively manage their healthcare benefits expenditures.
Target: Lower healthcare costs by 15-30%
One of the biggest hurdles to controlling healthcare costs is the complexity and obfuscation in the market. It's hard to be a smart shopper when you can't compare the quality of different providers or even know how much they'll end up charging. Better data aggregation, analytics, visualization in a more clear and simple ways to help consumers make smarter choices is the clear opportunity.
A recent study by The Institute of Medicine, the health arm of the National Academy of Sciences, estimates that ~30% of all health care spending in 2009 was wasted due to factors such as inflated prices, the provision of unnecessary services and inefficient delivery of care.
Healthcare Cloud Analytics - Emerging Framework
As employers shift health care costs to employees in the form of high-deductible plans, consumers have to try to shop for lower priced and better quality care.
So a new category of cloud-based analytics and data management software is emerging that enables Employers to gain control over their rapidly escalating health care costs. The objective is to aggregate and mine massive quantity of complex data into transparent and useful information.
Data Foundation
Create a data backbone – integrate, organize and normalize data - across the fragmented and complex health care landscape is a big challenge. Much of the healthcare information – EHR, claims, dosing, disease, readmissions, reimbursements — has been difficult to obtain and, in many cases, inaccessible to employers, their employees and families, and benefit providers.
Several vendors are emerging to aggregate more than a billion health care claim transactions from public and private data sources, which include customers' health plans and other third parties, and combines these data with health care benefit information, clinical practice guidelines, user-generated data and the consumer behavior data of users.
The vendors structure the data, enabling mapping of personalized cost information by region and individual service providers for a broad range of health care and physician services and medical products.
The next step is to combine the pricing data with clinical quality and patient experience information from national, regional and user-generated sources to deliver service-specific quality metrics across a broad range of providers in the United States. The consumer health care database allows external suite of applications to deliver transparency on cost and quality of health care services. Visibility into an otherwise opaque market is the end-goal.
Sophisticated Care Analytics in Action
The price of a cholesterol test can vary ten-fold and more from one provider to the next, with little correlation to quality. This pattern detection and analysis is where healthcare analytics plays a big role in cost and care management.
Proprietary data science techniques and robust capabilities are emerging to process and analyze healthcare data and compute cost and quality data for thousands of health care services and products. This includes transforming unstructured data from disparate sources into actionable information on price and quality of health care services.
In addition, predictive modeling is employed to identify patients at risk for needing particular services and estimate their future cost of care. We are not that far from more efficient care coordination.
Firms like Castlight use epidemiologic analytics to personalize recommendations for employers for specific benefits programs in which they should invest based on the health characteristics of their populations. Castlight offering uses this analytics engine to calculate costs and identify patterns of inefficient behavior for large populations of employees and their families, thereby enabling employers to take actions to optimize benefit plans, reduce inefficient outcomes and foster behavioral change.
Personalized Cost, Quality and Benefit Information
The goal of cloud vendors is to simplify the health care decision-making process for employees and their families by providing highly relevant, personalized information that encourages informed choices before, during and after receiving health care.
The decision support solutions include:
1) Personalized health care shopping experience…. A real-time interface to aggregate the employee's latest medical spending information. By combining data with medical claims history, benefit plan information, the available provider network and robust search capabilities, a highly personalized health care shopping experience illuminates both the employee's specific out-of-pocket costs and the portion of the medical expense paid by their employer.
2) Personalized benefit and clinical information, as well as specific alerts about lower cost medical and pharmaceutical options, avoidance of unnecessary services and preventative care recommendations. By empowering employees and their families with the ability to search price, quality and relevant content on health care services and providers, customers can make informed "market-based" decisions that avoid excessive prices and low quality or unnecessary care, creating significant value for employers.
See the Cost Comparison Interface from Castlight below: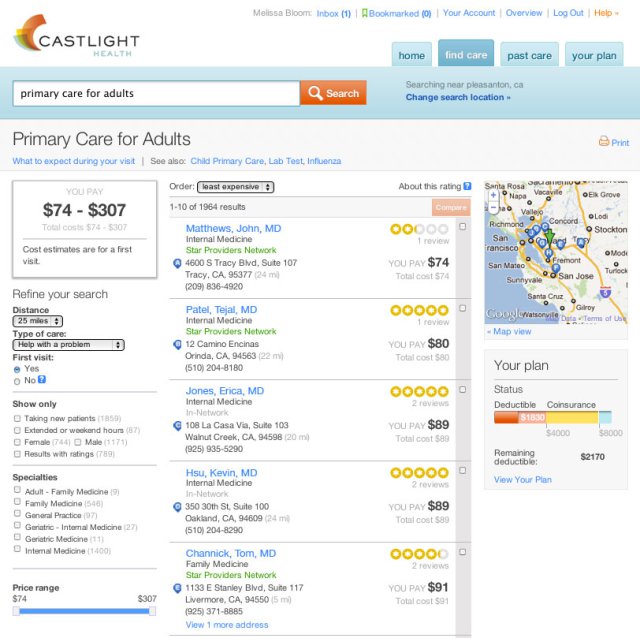 Virtually all new Health Information Solutions are going to be cloud based. See example from AthenaHealth below.The caregiver desktop in parallel to the healthcare consumer desktop is also changing dramatically.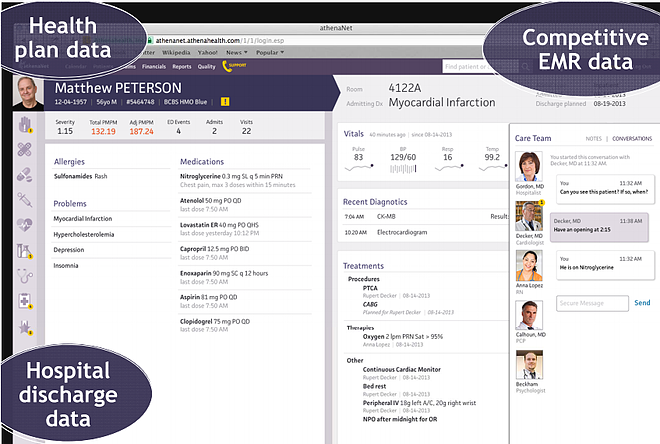 Summary
A growing number of data and analytics firms (e.g., Castlight, AthenaHealth, Benefitfocus) are focusing on dramatically improving the efficiency of the U.S. health care industry via greater transparency and better alignment of economic incentives among employers, health care consumers and their providers.
These emerging cloud platforms give employers who offer employee cost sharing plans the tools and information their employees and families' need, at scale, to better understand their care options, become more empowered health care consumers and spend their health care dollars wisely. In addition, they aim to enable and increase the effectiveness of more advanced benefit programs including:
Reference-based pricing, in which employers set maximum reimbursement levels for specified health care procedures and services;
Centers of excellence, in which employers create incentives to direct employees to preferred high-value providers and facilities; and
Incentive programs, in which employees receive monetary and non-monetary rewards to encourage beneficial health behaviors.
In each case, technology plays a critical role in the effective delivery of these advanced benefit programs. Data, analytics and reporting capabilities allow employers to rigorously design, specify and enforce the parameters of these programs, evaluate their effectiveness and optimize their performance over time.
Notes and References
1) U.S. health care spending is forecasted to total ~$3.1 trillion in 2014, with $620 billion of this amount to be paid by U.S. employers, according to the Centers for Medicare and Medicaid Services, or CMS. Despite this substantial investment, the U.S. health care system is burdened by significant waste and extreme variations in the cost and quality of care with limited correlation between the two.
2) According to the Kaiser Family Foundation, less than one in ten Americans say that have seen and used information comparing the quality of health providers in the past year to make health care related decisions.
3) There is a significant opportunity to offer a comprehensive, technology-based solution to reduce the massive waste and inefficiencies associated with the approximately $620 billion that employers are projected to spend on health care in the United States in 2014. By combining innovations in big data analytics, cloud-based software delivery models and consumer-oriented online and mobile applications, with deep health care domain knowledge and platform for integrating third-party applications, several vendors like CastLight, AthenaHealth etc are positioning to play a central role in dramatically improving the efficiency of the U.S. health care system.
4) Many large employers are implementing Private Health Exchanges, a consumer-directed health plan model, to help contain costs, but recognized that success would require supporting employees with a consumer-centric, cost and quality transparency tool that enabled informed decision-making, supported change management and improved employee engagement.