Mindset over Data Set - Sand Hill Big Data Study
"Meeting adjourned!" the chairman announces. In one swift move, I'm out of my chair and walking toward the door ahead of the other board members when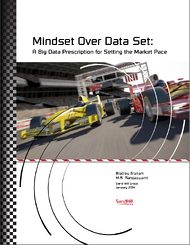 I hear my name, and there's no mistaking that voice.
"Dana," says Bill, the chairman of the board. "Could I speak to you a moment?" His tone is far more serious than when he addressed the board meeting with stellar quarterly results just a few minutes earlier.
I return to the conference table, outwardly confident yet searching my mind for what he could possibly want to discuss. Could it be about the acquisition we plan to make? Perhaps it's related to the construction of our new smart manufacturing plant? Or maybe it pertains to the upcoming strategic-planning initiative?
"Thanks again for delivering the best quarter and fiscal year results in our history," Bill begins. "This is a marked change from where we were heading before you arrived a few years ago. Let's hope the Street feels the same way after our analyst call tomorrow."
"A lot of it may be factored into our stock price," I say.
Bill continues. "I hear that some equity analysts are asking data analytics questions even of old-line traditional businesses like ours. Terms like Big Data and predictive analytics are new to us. I realize that every business can use technology to be more efficient. But should we be jumping on the flavor of the month that business schools, journalists and analysts throw at us? I ran this company for three decades, long before these management gurus were around, and I did not have to deal with this. Anyway, the reason that I wanted to talk to you is that I heard that our competitors from California are calling themselves a data-driven company."
"Actually, Bill, this Big Data stuff is big, but it's not just about data."
"Then what is it about?" Bill is surprised.
"It's about a mindset for making business decisions," I say. "What if I told you that we are already using Big Data to grow our business? Also, analytics is one of the reasons why we have been so successful. Remember our discussion on how we tweaked our shop-floor workflows in one factory and added $25 million to the bottom line in 2013? We did that by collecting machine data on our assembly line, analyzing patterns and asking a series of questions on the impact of changing the workflow for the machines."
I continue. "A key element of our execution was using the tribal knowledge of our team in deciding among alternative workflows to make improvements to our process. They did that very well."
Bill smiles ever so slightly and then says, "Sounds simple enough when you take out the jargon. But isn't this just everyday stuff on the shop floor with a little help from our computers? I really don't understand what all the Big Data fuss is about."
"The main difference now is that new technologies allow us to analyze large amounts of data from a variety of data sets to improve our ability to predict outcomes," I explain. "We use these predictions to evaluate different courses of action and make major decisions. In fact, when used properly, they let us do things that we could not do before, such as add $25 million to our bottom line. The big deal is not just that we have a lot more data. It is that we effectively applied new technologies to use this data to improve shareholder value."
"Like any other new technology, Big Data is hard to implement since we have to make organizational changes, there are no best practices and there is a talent shortage. We like to think of our early adoption of a data analytics approach as a means of gaining competitive advantage."
"I'm glad you explained this in simple terms. As you know, I'm on the board of a transportation company that was a market leader for many years. They were doing everything right and were at the top of their game. But in recent years, they seem to have lost their way. They are now worried about losing out to Amazon, which could undercut their whole model by using drones to deliver packages in 30 minutes. Amazon even has a patent for 'anticipatory shipping' to start delivery of a package before a customer decides to buy. How do you compete with that?"
It's a harsh reminder of how quickly the world can change, I think. Even companies that aren't resting on their laurels are not immune. Success today requires a heightened awareness of the business and all its operations, its customers and their constantly increasing expectations, its competitors and the market disruption they can cause, and the economy and its influence on all of the above. How do you make sense of it all in a way that catalyzes timely and effective action?
I finally say, "We faced similar issues when I joined this company. I found the decisions we were making, our so-called informed decisions, weren't as informed as we thought. We had data and we had smart people, but our analyses sometimes missed important insights. The issue was really that the volume and complexity of our data outstripped the capabilities of the tools we had to make sense of it all.
"A light went on for me after hearing the CIO of a financial services company say that using status quo tools is like bringing a knife to a gun fight," I say. "I decided that I would rather be the one bringing a gun to a knife fight. That began our journey to the results we just produced."
"How did you start the process?" Bill asks.
Until today Bill and I had never discussed any subject this much. He wasn't even really aware of what Big Data was. What he did know was that our company was enjoying record results.
I continue. "When it comes to Big Data, it's all about building the right mindset in your organization. You need to see yourself not as a 'widget company' but as a 'data company.' It's about exploration with a clear purpose, being open to new perspectives and moving forward based on correlation rather than causation. It's a cultural shift that must be established at the top and championed throughout the organization."
"Why is that?" he asks.
"I've spoken to several other CEOs that succeeded with the mindset approach," I reply. "There is a significant correlation between the analytics mindset and financial success. The results are better when Big Data is a priority backed by the resources of top management."
"What specifically have you seen your peers doing?" he asks.
"They are focusing on the fundamentals of their businesses and seeing how they can improve them with advanced analytics. Specific steps include aligning their people, technology platform and ecosystem of partners to work toward achieving their business goals."
Bill gets it. "I'm a big racing fan, and we always talk about how Ferrari and McLaren prepare for Formula One with human resources and technical resources," he says. "Like any business, you need a lot of factors to work together to win the race. Most important, you need a leadership mandate to set the pace."
Bill suddenly slaps his hand on the table, and I jump back a little. "I'm so glad we brought you in to run the company, Dana! I'm going to have the CEO of the transportation company connect with you. You just might help bring his company back as a pacesetter, just like you have for us."
Shirish Netke is president and CEO of Amberoon Inc.
M.R. Rangaswami is co-founder and CEO of Sand Hill Group and publisher of SandHill.com.
This study focuses on an executive-level prescription for implementing a successful Big Data initiative and is based on feedback from 160 real-world practitioners. The report also includes unique insights gleaned from one-on-one interviews with those responsible for Big Data initiatives at 25 large enterprises with combined annual revenues of more than $1.43 trillion. Like Sand Hill's past studies on cloud and mobility, this Big Data study provides a qualitative perspective from the executive suite and is based on in-depth interviews with top-tier decision makers that will influence investment in Big Data technologies in the enterprise in the next few years.