Sizing "Mobile + Social" Big Data Stats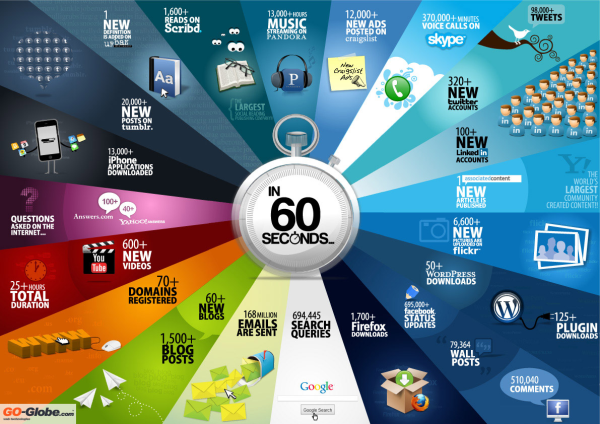 Simply astounding: Did you know that every 60 SECONDS, a tidal wave of unstructured data is being produced, consumed and archived. As you read this ask yourself: what does this mean?
To me it means a "new customer interaction" model powered by big data:
More evidence why Big Data and real-time analytics is the next big trend and became a big focus in 2012.
Business decisions approach real-time. Time available to capture data is decreasing. Analysis of increasing data volumes have to become faster. Operational excellence requires immediate action. Real-time capture and action is where the state of the art is.
Coupled with mobile, it means the emergence of a new Customer Interaction Model for corporations.
Every 60 Secs…Volume, Velocity and Variety of Social Data
Search engine Google serves more that 694,445 queries
6,600+ pictures are uploaded on Flickr
600 videos are uploaded on YouTube videos, amounting to 25+ hours of content
695,000 status updates, 79,364 wall posts and 510,040 comments are published on Social Networking site Facebook
70 New domains are registered
168,000,000+ emails are sent
320 new accounts and 98,000 tweets are generated on Social Networking site Twitter
iPhone applications are downloaded more than13,000 times
20,000 new posts are published on Micro-blogging platform tumbler
Popular web browser FireFox is downloaded more than 1700 times
Popular blogging platform WordPress is downloaded more than 50 times
WordPress Plugins are downloaded more than 125 times
100 accounts are created on professional networking site LinkedIn
40 new Questions are asked on YahooAnswers.com
100+ questions are asked on Answers.com
1 new article is published on Associated Content, the world's largest source of community-created content
1 new definition is added on UrbanDictionary.com
1,200+ new ads are created on Craigslist
370,000+ minutes of voice calls done by Skype users
13,000+ hours of music streaming is done by personalized Internet radio provider Pandora
1,600+ reads are made on Scribd, the largest social reading publishing company
Source: go-globe.com
Mobile + Social = Mobile Social Networking
The move to mobile computing and the rise of social networking are the two defining trends in computing right now. So what happens when those trends converge?
Social networks are going mobile in a big way. What is the data telling us….according to comScore, accessing social networking services is one of the fastest-growing activities on mobile phones. In September 2012, over 40% of all mobile phone users in the U.S. accessed a social network, performed a check-in, or tweeted on their phones.
The increase in mobile social networking is clearly being driven by the rise of smartphones. The iPhone 5 makes it even more easier and a much better experience. So the growth is going to be exponential – more users and more content.
Mobile phones are primarily communication devices. And social is all about staying connected. So not surprisingly, the most common social networking activity on mobile phones is related to communications. E-mail is going to become a dinosaur technology…more of a formal archive than a real-time interaction tool. According to some teens, it's more of a "lame-time" than real-time.
Mobile growth is not a new trend. But seems to have caught the major players like Dell, HP, Microsoft and other napping. Classic case of "Innovator's Dilemma". Amazing how managers don't pay attention to mega-trends and simply watch the train-wreck unfold. Handling disruptive business model change is never easy.
Facts -> Interpretation -> Conclusions
Clearly we are not short on data. What we need are better big data platforms, paired with predictive and sentiment analytics, that allow us to correlate "cause and effect" say transactions with social media mentions; positive buzz with ad campaigns; uplift in certain age groups by certain influencers and so on.
Instead of learning which customers a company lost; it might be better to predict which customers a company might lose and present timely offers or products motivating customers to stay.
I was recently in a Best Buy and had a interesting social experience. I used Red Laser to do real-time price compare but eventually decided that the 10% discount on a product is not a good tradeoff of my time.
As I checked out, I asked about the return policy and was met with a hostile response….don't take anything back without a manufacturer defect. It's interesting that while companies like Target are "price matching" online competitors they are still not paying attention to the other aspects of the sale like easy (no questions) returns; unlimited return windows etc. The shopping experience is more than price!!!
This "new customer interaction model" example illustrates how much work is ahead of traditional firms as they transform their business model in the Mobile + Social world.
In the new "Mobile + Social" interaction paradigm… the traditional firms – banks, retailers, etc – better figure out the future of stores (and brick and mortar) in the age of digital products, same-day delivery and mobile apps that tell you in real-time what is out there. This is definitely accelerating the "showrooming" phenom as traditional players become an expensive fronts for online retailers. Businessweek (October 28, 2012) had a great quote: "Best Buy pays for real-estate, sales people and cash registers and Amazon.com rings up the sale." Showrooming put Borders out of business and brought Barnes & Noble to the brink.
So this is for real — what are you going to do about it. Technology is the catalyst for a bigger disruption.