Market Sizing – Analytics and Big Data
The buzz and hype around data…small data, big data, machine data, social data, mobile data….is relentless. As a result there are a lot of new initiatives and companies. I have been asked repeatedly by a lot of entrepreneurs and strategy teams about analytics market size and opportunity size. Product and services firms are also interested in opportunity sizing as they create new offerings in this area.
I thought i would share a mashup of data i have collected so far.
How big is the market for Analytics, Big Data?
How big is the market for Mobile and Social Intelligence?
What is growing fast, faster and fastest?
All good questions as services firms think about digital strategy, analytics and future state. You always want to be in the "hot" area… selling is easier, valuations are richer, revenue growth percentages exponential.
Analytics and Big Data will be a multi-decade opportunity…. will be highly disruptive to some industries, affecting not only revenue and cost structures but also shaking up the core business and operating models.
"Information overload is not the problem. It's filter failure." – Clay Shirky
How Large is the IT Services Industry
According to Gartner 2013 Global IT spend expected to hit $3.7Trillion, This includes software, hardware and services across multiple cycles of technology (many of which would co-exist in large corporations and governments).
According to IDC, the IT services market worldwide was estimated to be $855.2 billion in 2011 and is projected to grow to $1,071.9 billion by 2016, representing a five-year CAGR of 4.6%
Cloud services are growing the fastest… According to IDC, the global market for public IT cloud services spending is projected to grow from $40 billion in 2012 to $98 billion in 2016, a compound annual growth rate of over 25%.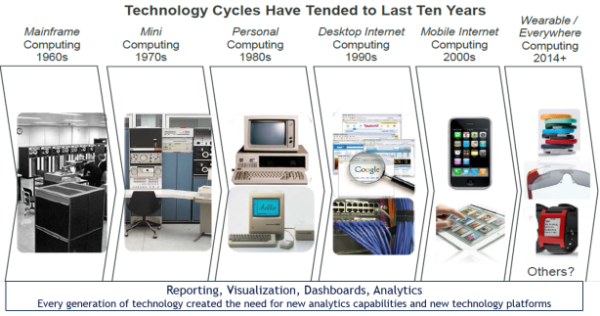 What segment is growing the fastest?
IT is becoming pervasive and user-driven. The accelerated adoption of the new technologies suggests that demand for IT services focused on these technologies is likely to grow at rates that outpace the growth of the overall IT services market worldwide.
According to IDC, worldwide spending on professional services related to implementing cloud services was $5.5 billion in 2011 and is expected to grow to $20.0 billion by 2016, a five-year CAGR of 29.2%. According to the same source, the mobile enterprise application platform market was $1.2 billion in 2011 and is expected to grow to $3.7 billion by 2016, a five-year CAGR of 24.1%.
According to Gartner, worldwide social media revenue (consisting of revenues from advertising, gaming and subscriptions) was estimated at $11.8 billion in 2011 and is expected to grow to $33.5 billion by 2016, a five-year CAGR of 23.0%. The growth in demand for technology services by enterprises seeking to adapt their business models to these emerging technologies and related market trends represents our market opportunity.
How Big is the Vertical Solutions Segment?
According to Gartner, Inc., of the $396 billion that businesses spent worldwide on software in 2012, the largest area of spending was Vertical Specific Software, constituting $110 billion or 28% of total software spending. In addition, the demand for cloud-based solutions continues to grow.
How Big is the Healthcare Solutions Segment?
Of the $44 billion that IDC estimates life sciences companies spent on technology in 2012, $28 billion was on software and services and $16 billion was on infrastructure.
Life sciences total addressable market, including the market segments for sales and marketing automation and related solutions for life sciences sales representatives, regulated content management solutions for life sciences companies, customer master solutions for life sciences companies, and healthcare professional, organization, affiliation and reference data, to be at least $5 billion.
What is the Size of the Mobile and Social Market
Mobile and Social Market Size and Statistics
The move to mobile is the most important trend in all areas of computing. As Mobile is replacing PC as the interface….did you know:
Out of the 5 billion mobile phone users in the world, 1.08 billion are smartphone users
More than 91.4 million smartphones users are from the U.S
Smartphone platform Android has the highed market share of 46.9%
89% of smartphone users use their smart phones throughout the day
92% of smartphone users use their smarphone to send text messages to other phones. Whereas, 84% of users use their smartphones for browsing the internet
The age group of 25-34 has the highest smartphone penetration rate of 62%
50% of Android Smartphones and 43% of Apple iPhone users are younger than 34 Years.
53% of smartphone users are male and 47% are female
Android Smartphone owners consume the highest amount of data at 582 Mbs a month, while iPhone owners on consume 492 Mbs of data a month on average
Apple iPhone users download the maximum applications per month, which is 48
Downloading applications is the most popular data usage acitivity for smartphone users
Apple sold 33.8 million iPhones, September 2013 quarter, compared to 26.9 million in the year-ago quarter. Apple also sold 14.1 million iPads during the quarter, compared to 14 million in the year-ago quarter
Source: go-globe.com
What is the Size of the BI and Analytics Market?
BI Market Size and Statistics - According to Gartner
The market for traditional business analytics software is large and well established, with IDC estimating an aggregate spending of $35.1 billion in 2012 in this worldwide market sector.
IDC estimates that the worldwide spending on business intelligence tools alone, a subset of the overall business analytics software market, was $12.9 billion in 2012.
In addition, organizations also spend billions of dollars on hardware, support and services to implement and maintain traditional business intelligence systems. According to Gartner, Inc., organizations are expected to spend $81.0 billion on business analytics and related services in 2014.
According to an August 2012 Forrester Research, Inc., or Forrester, report, Forrester estimated that there will be 615 million information workers globally in 2013 and it predicts that number to grow to 865 million by 2016.
Additionally, a Forrester survey of information workers conducted in the fourth quarter of 2012 indicated that only 17% of respondents use a data dashboard or business intelligence tools as part of their job.
Accordingly, we believe a significant percentage of information workers are not accessing business intelligence software, and they instead use alternative approaches to meet their analytical needs.
What is the Size of the Big Data Market?
Research firm IDC in Jan 2013 extrapolated that big data market that will grow revenue at 31.7 percent a year until it hits the $23.8 billion mark in 2016. IDC segments its report and predictions into servers, storage, networking, software and services, predicting storage will see the biggest growth at a 53.4 percent compound annual growth rate. That's a big number for a relatively new market when you compare it to BI.
When you factor in Hadoop, analytics, machine learning, machine-to-machine, data warehouse, NoSQL, data science, visualization, data management, cloud analytics — the numbers are going to be much larger. The business of capturing, storing, processing, analyzing and visualizing data, is big and growing.
In Data Centers alone… the volume of performance, availability and event data has increased 300% since 2006. According to Gartner, Global 2000 data centers spent close to $400M on analytics and big data storage technololgies in 2012 (an amount expected to double in 2013).
The potential value of mining digital data is now expanding beyond commercial industry. In March 2012, the White House Office of Science and Technology Policy announced the Big Data Research and Development initiative, a $200 million program designed to help government agencies better organize and analyze large volumes of digital information, with the aim of accelerating scientific discovery and boosting national defense.
Big Data Market Size and Vendor Revenues – WikiBon
In Summary
I believe that spending around Digital Customer and Digital Transformation is going to explode in the next 5 years as companies race to catchup or watch the business decline. Analytics in the consumer segment will be highly disruptive to some industries, affecting not only revenue and cost structures but also shaking up the core business and operating models.
Just look at this chart from Oracle.

Advice to Entrepreneurs or Managers — Market Size and Opportunity is proportional to the value at stake
The clear message from my work is that companies need to fully embrace data and analytics but should do so in line with their own unique opportunity. Why build a new analytical platform if more targeted data improvements will suffice? Conversely, why dabble with small-ticket data experiments when the analytics based value creation can radically transform your bottom line? To assess and act on the data, information management and analytics transformation opportunity, we recommend four steps.
Estimate the value at stake. Companies need to get a clear handle on the top-line and cost-reduction opportunities available to them.
Prioritize. Most organizations don't have the ability, resources, or risk tolerance to execute on more than two or three big opportunities at any one time. Be selective. Figure out what areas are likely to deliver the greatest return on investment and the best customer outcomes and start there.
Take an end-to-end view. One financial-services firm built a world-class analytics driven recommendation model but failed to update the legacy Siebel CRM and paper-based processes that supported it—processes that were manual and prone to error. That false veneer of speed and efficiency eroded trust and turned off customers. The moral? Although it may seem counterintuitive, over-investment in a slick analytically driven front end that is not matched with the corresponding high-quality data or data integration that customers now expect may actually lead to increased customer frustration.
Align the business portfolio accordingly. In the long run, some lines of business will simply be destroyed by predictive or prescriptive analytics. Hanging onto old ways and tweaking them is futile. Companies need to act purposefully and divest where it makes sense, identifying what holdings are likely to be cannibalized or likely to underperform in the new environment and sloughing them off. Conversely, some areas will clearly need new capabilities and assets, which companies often do not have the luxury to build up slowly or organically over time.
The pace of change will also depend on Regulated vs. Unregulated market dynamics. Unregulated markets tend to change and evolve faster than Regulated markets.
Related articles